guest blog by Joseph Bentz
   
In order to finish my first novel, I had to learn how to become obsessed with it.
   
I have talked to many writers who find their biggest problem with finishing a novel is that they lose momentum. The idea seems great at first, and their enthusiasm propels them through the writing for awhile. Then at some point along the way, they get stuck. Maybe they can't quite work out a difficulty in the plot, or a key character isn't quite coming to life.   
   
They set the manuscript aside for a few days and decide to think these problems through before proceeding. When they get back to the novel, the problems persist, but their enthusiasm has faded. They can't quite remember where they were headed with this story, and new difficulties pop up in elements of the book that once felt solid. They set the novel aside again, hoping that creative flow will soon return. A few days go by. Then a week. Then they find it hard to drag themselves back to the novel at all, and when they do, it no longer feels like the same story that first captivated them. If they continue at all, it is only under agony and protest, with long gaps of time in between.
   
A healthy dose of obsession might help a novelist avoid this trap. In most areas of life, of course, obsession is a bad idea. But obsession in writing a novel doesn't carry the same dangers as other compulsions, such as a video game addiction or excessive spending at the mall. I know few if any writers who spend too much time actually putting words on the page.
   
For me, cultivating the kind of obsession that will help me finish my novel starts with setting a Rule, which is this: Whenever I start a novel, I work on it every day until the book is finished.
   
This rule is inviolate for me. The amount of writing I do is not as important as the every day commitment. Why? Because knowing that I have to push the story forward each day keeps it in my mind throughout every day, at least at a low level. Even a few sentences every day gets me further in the long run than trying to write the book in few multi-thousand-word sessions with big gaps in between.
Like many novelists, I have to squeeze in my writing time in the midst of many other responsibilities. I am a full-time literature professor, father, husband, etc. At certain points in the writing process, I go beyond the every day rule to also set goals of a certain number of words a day or a certain number of hours a day on the manuscript. But the every day rule never goes away, no matter how busy I am with other demands.
The everydayness is important because the world of the novel—its people and places and action—is fragile and can easily fade the same way a dream fades when you wake up in the morning. Do you ever have scenes for your novel pop into your head at inconvenient times, such as when you're taking a shower or sitting through a dull meeting? The scene may seem so vivid that you think you'll never forget it. Maybe you tell yourself you'll wait until the weekend when you have more time and then you'll write it into your manuscript. But what happens when the weekend comes? You either can't remember the scene, or it has lost its spark and just sits there, lifeless.
Writing every day not only allows you to get these scenes down when they're fresh, but even more importantly, it feeds that creative magic that happens when one idea leads to another and then another. When you're in that creative flow, you'll find yourself increasingly generating ideas not only when you're at the computer, but at many other times of day as well, when you're driving to work, watching TV, running and walking, brushing your teeth. You'll find yourself diving for a pen and pad of paper at the most inappropriate times so that you don't lose the idea. That's the obsession I'm talking about. The everyday rule itself is not the obsession, but it helps you achieve it.
Many writers try to think their way through writing difficulties in a manuscript, but it's far better to write your way through those problem sections. Writing every day helps because then to some degree the novel is always "on" in your brain and you never know when a character will rise up and start speaking or acting or solving some plot difficulty for you. 
I learned the lesson of obsession the hard way. My first novel took me ten years to write because of distractions with work, graduate school, writing frustrations, and other excuses. Several years into the process, I finally decided I need either to finish the book or put it out of my life. That's when I adopted the rule for writing every day. It got me through that novel and the three that followed. More recently I have been writing non-fiction books, and I find I don't need the rule for those books. The "world" of a non-fiction book is not as fragile as the fictive world of a novel, so I can come and go from it more casually.
When I say that my rule for writing every day is inviolate, I really mean it. Birthdays, Christmas, Sundays, days when I'm ill, days when I'm in crisis—every day still affords some small window of time to write. I started my current novel last September, and I have not missed a day on it since. As I write this, I haven't yet done my writing on it for today, but the ideas are jumping, and I am eager to get back to it. 
~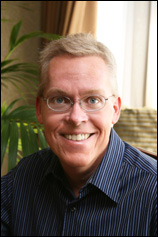 Joseph Bentz is the author of four novels and three non-fiction Christian living books. His most recent book is God in Pursuit: The Tipping Points from Doubt to Faith (Beacon Hill Press, 2010). His book When God Takes Too Long: Learning to Thrive During Life's Delays (Beacon Hill Press, 2005) is available as a stand-alone book or accompanied by a DVD that guides small groups through a six-week study of the book. All of his Christian living books include free Study Guides that are ideal for small group use.
  
Among Bentz's novels are A Son Comes Home (Randall House, 2007), contemporary novels published by Bethany House, and a fantasy novel, Song of Fire, published by Thomas Nelson. Bentz is a professor of English at Azusa Pacific University in Southern California, where he teaches courses in American literature and writing. More information about his books and speaking is available at his website, http://www.josephbentz.com.