Guest Blog by Jolene Philo
"It's a boy," the doctor announced to my husband and me in the delivery room. "Small, but perfectly formed."
With those words, our parenting journey began in Spearfish, South Dakota's small hospital. A few hours later, our journey took an unexpected turn.
The doctor said our son, Allen, was having trouble breathing. "We took an x-ray and saw a spot on his lung, but we need to transfer him to Rapid City for more tests."
A few more hours and a pediatrician called to say our son had a major birth defect that required immediate surgery for him to live. "Do you want to life flight him to Omaha or Denver?" he asked.
By the time Allen was 24 hours old, he had endured his first surgery. He went through seven more surgeries by the time he was five and a final one at fifteen. As he progressed through adolescence, he developed a pattern of running from stressful situations. It persisted until his mid-twenties, when he was diagnosed with post-traumatic stress disorder (PTSD) caused by the medically invasive procedures and successfully treated. Since then he found a good job and was recently married.
Our journey as Allen's parents led me to a new, unexpected path as an author specializing in special needs parenting books. Throughout Allen's early struggles, which shook my faith, I searched for books to answer my questions about a God who would allow my child to suffer. I searched for books about parenting children with special needs – something to help us navigate the health care maze. But I found nothing.
Finally, I decided to fill the gap by writing a book for parents of children with special needs. After twenty-five years as an elementary teacher, and pursued a career as a writer and speaker. Six years later in September of 2009, Discovery House Publishers (DHP) released my first book,  A Different Dream for My Child: Meditations for Parents of Critically or Chronically Ill Children. Now I am researching and writing a second book, Different Dream Parenting: Raising a Child with Special Needs, which will also be published by DHP. I blog at www.DifferentDream.com which provides resources and support for families of kids with special needs.
When our son was born, I had no idea of the journey ahead. The trip has been one wild ride. It's also been an incredibly satisfying one as God has given me experiences and formalized training which led to professional expertise and a deep, confident faith to share with struggling parents.
Would I have chosen this path?
Never.
Am I grateful for this journey? Always, and more each day as God reveals more of his perfect road map and is glorified by my small trek along it.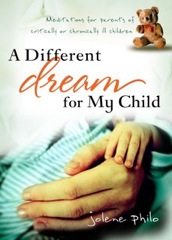 ~~
Jolene is the author of A Different Dream for My Child: Meditations for Parents of Critically or Chronically Ill Children and founder of DifferentDream.com. For more about her or her work please visit the website.