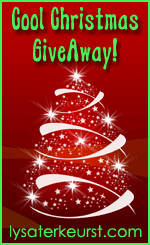 Do you want to win some FREE stuff and check out some awesome blogs?
Check out Lyssa's One Cool Christmas Give Away!
Lyssa is giving away all this great stuff on her blog in the month of December…check Lyssa's blog each day and see what's the day's give-aways are!
Here is the schedule for the upcoming days:
Saturday 12-15 through Sunday 12-16:
Sandra Aldrich
She's giving away one copy of each of her books AND a $25 Wal-Mart card! Wow
Monday, 12-17:
Two Winner Day-
Glynnis Whitwer is giving away a set of decorative files of your choice to help you jump-start your New Year's organization resolutions.
Tracie Miles is giving away one of her books and the CD of the speaking session that goes with it
Tuesday, 12-18:
One winner will get:
Dena Dyer a copy of The Groovy Chicks' Road Trip to Love, my latest book, on your blog. I can package it with two other items: a purple and green wooden sign that says "Groovy!" and a craft kit that would be fun to do with kids.
A second winner will get:
Yvonne Ortega
Hope for the Journey through Cancer book and Starbucks Certificate
Wednesday, 12-19:
Two Winners Day-
One – Suzie Eller Books: Real Issues, Real Teens: What Every Parent Needs to Know book (for mom) and Making It Real: Whose Faith Is It Anyway? (for their teen), along with some fun munchies. blog for teens http://realteenfaith.com/.
Two- Martha Bolton a four book autographed gift set and $10 Starbucks gift card. The books would be:
DIDN'T MY SKIN USED TO FIT?
COOKING WITH HOT FLASHES
GROWING YOUR OWN TURTLENECK
RACE YOU TO THE FOUNTAIN OF YOUTH
Thursday, 12-20:
Tricia Goyer
Four WWII fiction novels.
Chocolate
Starbucks card
http://www.triciagoyer.blogspot.com/
Friday, 12-21:
Sharon Hoffman
An "It's All About Me" gift basket full of a book of mine, bubble bath, lotion, and a candle…..so the gal who wins can have an hour or half hour or even a five minute relaxing time alone where it's all about her!
Saturday, 12-22:
Lelia Chealey $100.00 gift certificate to BeautiControl and poem
Good Luck!