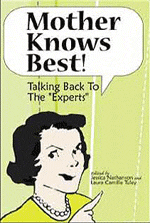 One hundred years ago most people got their parenting advice from family or neighbors. In the good ol' days mother DID know best because she was one of the few providing input. Old wives' tales came from old wives…and one listened to them because there was no such thing as Google, or blogs, or parenting magazines. (Not to mention Twitter, where I can get advice from a "friend" in 140 characters or less!)
   
Today voices come at us from every direction, and common sense is often figured out by what idea/suggestion/tip most experts agree with. I don't know about you, but I'm often afraid to trust my gut unless I check out three sources, read five blogs, chat with my closest circle of friends, and post a question on Facebook, just to make sure my gut is right. But should it be that way? Is it only possible to be responsible if we're in step with status quo?
   
Writer C.E. Stowe says, "Common sense is the knack of seeing things as they are, and doing things as they ought to be done." Or as my friend Kim, mom of two preschool-aged boys, puts it: "Doing what I should do, not what I want."
   
I love that! Yes, sometimes it's hard to do what you know you should. Do you have an area of your life you're battling between what you should do and what you want to do? What helps you make the right choice?