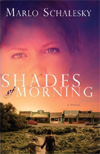 Slips of paper, notes of regret. And a boy who sees through it all.
Marnie has her life just where she wants it. At least that's what she tells herself – her past is hidden, her regrets locked tightly in a box on her shelf, and her bookstore and coffeeshop business is booming.
No one knows what she's done, who she's been. That is, until the man she once loved finds her again and brings startling news – she's now the guardian of her 15-year-old nephew, a boy she never knew existed.
To make matters worse, when the boy arrives, she discovers he has Down Syndrome. The past collides with the present, the box of regrets is exposed, and Marnie's world shattered and rebuilt through the love of one special boy who makes all things new.
Shades of Morning – Coming June 15, 2010!
Read the Story Behind the Story!
About Marlo: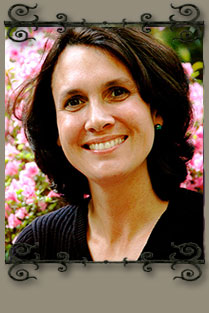 Marlo Schalesky is the award winning author of seven books, including her latest novel, Shades of Morning, which combines a love story with a surprise ending twist to create a new type of novel that she hopes will impact readers at their deepest levels.
Marlo's other books include If Tomorrow Never Comes, Beyond the Night, Veil of Fire, a novel about finding hope in the fires of life, Empty Womb, Aching Heart- Hope and Help for Those Struggling with Infertility, and Cry Freedom.
She's had over 600 articles published in various Christian magazines, including Focus on the Family, Today's Christian Woman, Decision, Moody Magazine, and Discipleship Journal. She has contributed to Dr. Dobson's Night Light Devotional for Couples, Tyndale's Book of Devotions for Kids #3, and Discipleship Journal's 101 Small Group Ideas.
She is a speaker and a regular columnist for Power for Living.
Marlo is also a California native, a small business owner, and a graduate of Stanford University (with a B.S. in Chemistry!). In addition, she has earned her Masters in Theology, with an emphasis in Biblical Studies, from Fuller Theological Seminary.
Marlo lives with her husband and five young children in a log home in Central California.
When she's not changing diapers, doing laundry, or writing books, Marlo loves Starbucks white mochas, reading the New Testament in Greek, and speaking to groups about finding the deep places of God in the disappointments of life. For more info please visit Marlo's website!