Young, married, need advice? This is the last post in this series, so please pass on these posts to any young, married couples you know! Read Part One. Read Part Two. Read Part Three.
10 Tips:
"Form a long-term relationship with a godly counselor whom you both respect. Let that person 'walk beside your marriage." ~Ronna Jones Snyder
"If your spouse's friend is stirring up trouble between you and your spouse, get rid of that friend." ~Linda Rand Halbur
"Meet your in-laws first. (I eloped before I met my in-laws, and it created quite a bit of discord.)" ~Becky Wheeler Guinn
"Never, ever allow the word 'divorce' to be spoken aloud, and control the tongue during arguments. It's hard to take back the 'ugly' stuff spoken." ~Kim Shaw
"The feelings of love will fluctuate with time and circumstances, but with commitment, you will press through." ~Golden Keyes Parsons
"As a couple, you make all the rules. When the rules no longer work, change them." ~David A Ross
"Love, respect, and honesty are key. And always, always keep the Lord in the center of your marriage." ~Ellen Crosby
"Never, ever stop trusting that God is in charge. And keep talking to each other." ~Becky Jacoby
"Take the long view. What is happening now/today isn't necessarily so for the long term. Always try to picture yourself on the same team, fighting against the Enemy of your soul." ~Laurie Ostby Kehler
"Never give up and always stay beside each other, especially during trials, sickness, loss, or financial struggles." ~Angie Kay Webb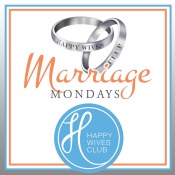 Like these tips?
What are your tips?