If you've had any amount of success in writing, then you've most likely been approached to help someone write his or her book. Or to write someone's story for that person.
I get asked all the time, but I almost always say no. Why?
1.

     
I usually have two or three contracts in the works on my own projects.
2.

     
Not every good story will make a good book. Yes, God may have done something amazing in your life, but what benefit will the reader get from hearing your story? Why would they pick up your book?
3.

     
People are picky about their own stories (which they should be), and it's hard to get the words just right.
Yet, there was a time I said yes. . . .
I was blessed to co-write Kristen Anderson's book, Life in Spite of Me. I was introduced to Kristen 
through a mutual friend, Margaret McSweeny. Within five minutes of meeting Margaret, she grabbed my arm and said, "I feel Holy Spirit butterflies, and you're supposed to write a book for this young woman I know who tried to commit suicide." I smiled and nodded like I always do when people say, "I have a book for you to write."
Margaret would not give up until Kristen and I talked on the phone. She even scheduled the phone meeting for us! Yet when I talked to Kristen and listened to her story, I was amazed. God did SO many amazing things with her! I didn't get any money up front, and we settled on a very small percentage for my work. But I set it in my heart ahead of time that this book was a tithe of sorts. (And, yes, my name is on the cover.)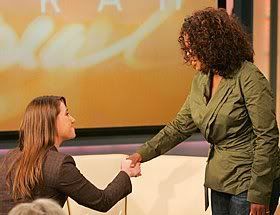 There were two challenging things:
1.

     
Kristen had shared her story hundreds of times (including on Oprah [watch the video here]), so she had her script down. The harder part was talking through all the details, facts, and moments she hadn't thought about in a while.
2.

     
It was hard for Kristen to relive many moments. Really hard. She had to revisit places she hadn't in a while. I felt like a counselor at times—asking questions that would spur memories.
There were more amazing things:
1.

     
Kristen is amazing! She is a friend for life!
2.

     
I was able to see connections in her story she wasn't able to see. For example, Kristen's childhood nickname was Speedy Two-Shoes . . . and in her accident, Kristen lost her legs. Because of that, no one used her nickname again, which was just another small thing but another layer of loss.
3.

     
Thousands of people have written Kristen about the book, and many, many have decided not to commit suicide after reading it! This is payment that monetary compensation doesn't touch.
All that to say, sometimes you just have to do what you feel God is calling you to do.
Also, I hope you understand why authors have to say no. Writing our own books is easier. We have messages we feel God is asking us to share, too.
Finally, the right stories will be written at the right time with the right people. Trust God in that! And if you really feel your story needs to get down on paper, I encourage you to write it! God may be leading you in a direction of publication that fills you with fear, but if He's asking you to write your story, He'll help you with that!