Welcome, Homeschooling friends!
Connecting with you at the CHCSD Conference in Sioux Falls, SD, was awesome! I hope you received encouragement, help, and inspiration — and if you need the slides from any of my sessions, you can find those below.
As you may remember, I've been homeschooling for a long time. My oldest son is 34, and I attended my first homeschooling conference in 1994. I've been at this for a while!
BUT I'm also a current homeschooling mom. This year I'm homeschooling three kids, ages 12-15.
Here is a photo of my family. Aren't we cute?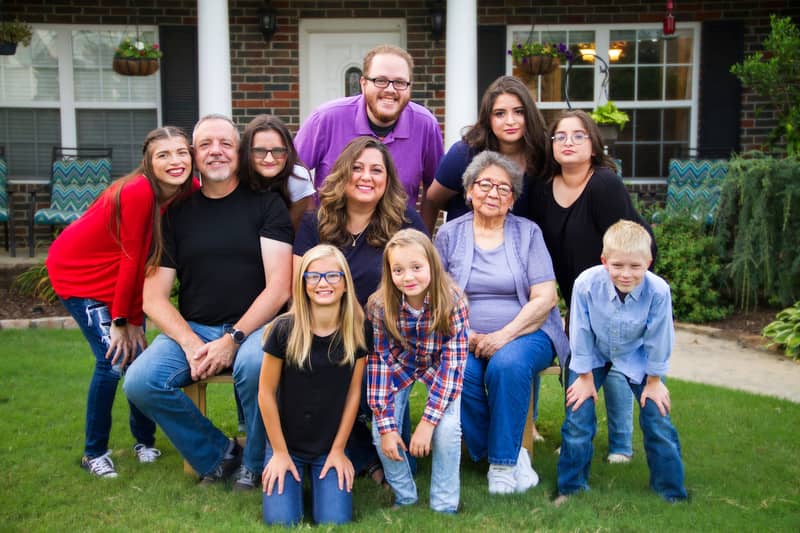 John and I were blessed to adopt six kids after raising our three biological kids. We also have two "unofficial" daughters and wonderful grandkids. Together we make a big happy family! I'm amazed at how God has grown our family, and I suppose I just wanted to homeschool for 35 years!
Like you, I'm in the daily grind of it. Homeschooling takes up much of my day. I'm also an author and speaker. I've written 72 books.
My most recent release is Before You Meet Your Future Husband, written with my good friend, Robin Jones Gunn.
Now, you may be asking … how does Tricia write books, speak at conferences, and homeschool? That's a question I get a lot. I get it so much that I wrote a book about it, and you get it for FREE!
For your free copy of Balanced: Finding Center As a Work-at-Home Mom, go here: Free copy of BALANCED.
Even if you aren't a working parent, you'll find some great tips!
Thank you so much for your friendship. Here are MORE ways we can connect.
My podcast: The Tricia Goyer Show: http://thetriciagoyershow.com/
Facebook: https://www.facebook.com/authortriciagoyer/
Instagram: https://www.instagram.com/triciagoyer
My Shop: https://tricia-goyer.myshopify.com/
And if you're interested in writing a book, I invite you to try out my subscription group, Write that Book! Click here to get all the details and sign up.
If you have a child interested in writing, we also have the perfect program for them. Join the waiting list to try it out!
Finally, I want to leave you with a bit of encouragement. When raising kids, you've already made the two best choices: to invest in them and teach them about Christ. Keep up the great work! As a parent of three adult children who love Jesus, I know it makes all the difference!

Download Slides from my Sessions
Note: These slides are for personal use only. Please do not present or share.